MODEL

UD-181LC -- Large Format Galaxy Printer

Printhead

Epson DX5

Number of printhead

1 Head

Maximum print width

1,800mm

Print Speed (m2/h)

Print mode

Standard output(m2/h)

D

4 PASS 16

S

6 PASS 11

Q

8 PASS 9

HQ

8 PASS 9

BL

12 PASS 5

Ink

Type:

Water based / Eco Solvent Ink

Color :

4 Color (C,M,Y,K)

Capacity:

1L per Main Tank of Each Color

Ink Supply System

Auto Ink Supply System

Media Width

Maximum 1,880mm

Media Type

Vinyl, Polyester, Flex, Back-lit Film, PS Board, KT Board, PVC Board, etc.

Auto Media Feeding System

Equipped (Max. Media Weight 25kg)

Auto Cleaning System

Anti-clogged Flash Function & Capping System

Pre-heating & Drying System

Equipped

Clamp

Equipped

Print Interface

USB 2.0

Printhead Height

2 to 10 mm from Media

RIP Software

Ultraprint, Maintop, Photoprint, Wasatch, Ergosoft

Input Power

AC 220V,50Hz/60Hz

Machine Dimension / N.W

L3,080 x W990 x H1,260mm / 204KG

Package Dimension / G.W

L3,140 x W1,050 x H685mm / 381KG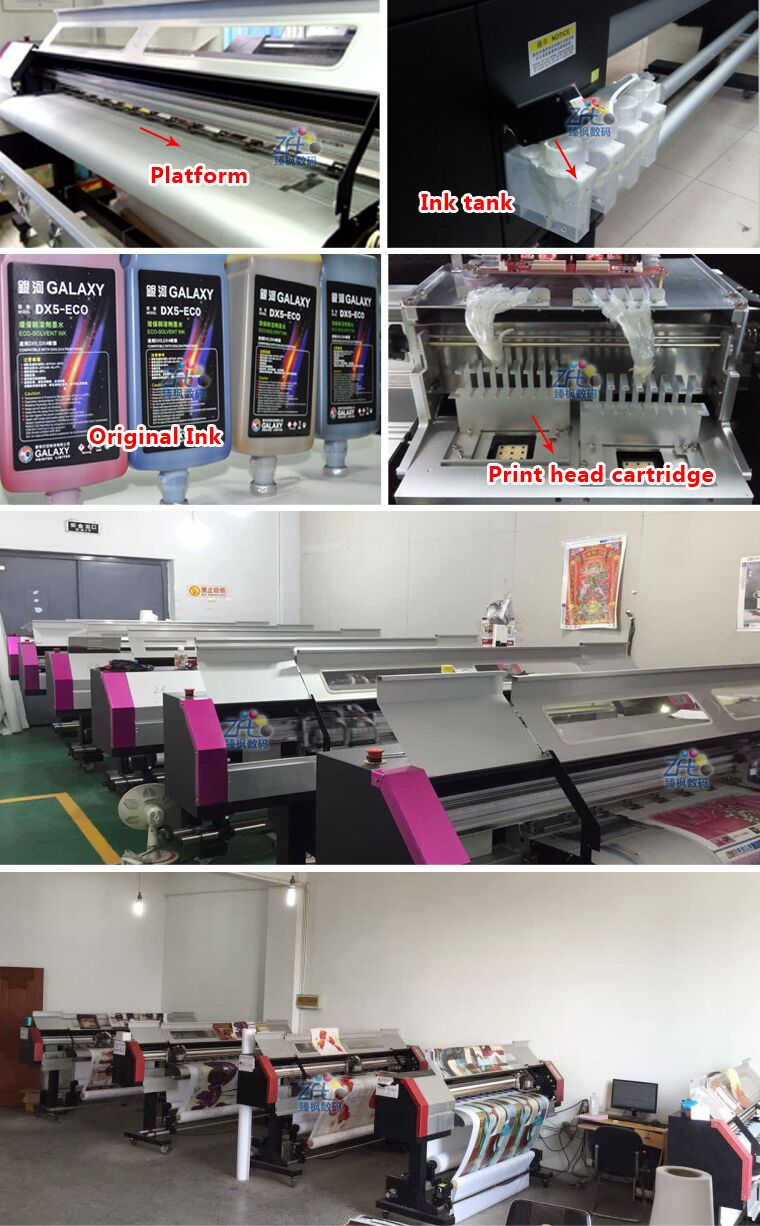 Garros Printers Attended Every Year'd local & Internetional Exhibitions :
2011-7-11 The 19th Shanghai International AD and Sign Technology Equipment Exhibition
2012-7-11 The 20th Shanghai International EXPO
2012-9-3 Guangzhou International AD & Sign Technology Equipment Exhibition
2012-11-7 Indonesia International AD & Sign EXPO
2013-3-7 Guangzhou International AD&SIGN EXPO
2013-7-10 2013 Guangzhou Construction Expo
2013-7-13 The 21st Shanghai Int'l Ad & Sign Technology & Equipment Expo
2013-9-2 2013 D-PES Sign Expo-Autumn Guangzhou
2014-2-25 DEPS exhibition
2014.21-24 2014-7-3 Shanghai Int'l Ad & Sign Technology & Equipment Expo
2014-9-3 Guangzhou D'PES Exhibition
2014-11-1 Guangzhou Leather Exibition
2014-11-19 Guangzhou FESPA Exibition
More and More~
Warranty and After Service OF our printer
1) 12 months trouble-free warranty and online support, if it's hard to solve ,we can fly to your country for checking and repair.
2) There are complete English video and user manuals to guide you easily install, operate and maintain the screen printing machine prices.
3) We also warmly welcome you to visit us for free training (installation, operation, and maintenance).
Other products we also supply:
1:Printer:eco solvent printer,Sublimation Printer,heat press machine, direct printing fabric printer.
2:Ink: eco solvent ink, sublimation ink,solvent ink( Infiniti sk-4 ink, eco solvent ink, ink-mate sublimation ink, ink-mate water based ink, xaar solvent ink, Icontek ink, Phae ton ink etc. )
3: Printheads
1)Xaar 126/40PL,126/80PL,128/200,128/360
2)KM512/42PL/14PL, KM1024
3)SPT510 35PL/50PL, SPT255 80PL,SPT1020/35PL
4)Skywalker-128, Polaris 512/15PL
5)Skywalker-128, Polaris 512/15PL
4. Spare parts(normal & special accessories):
Ink pumps, Filters, Ink cartridge, Cleaning valves, Solenoid valves, Dust-free products, Rasters(encoder strip), Data cables, Belts, Damper, Wiper, Blade, Capping station, Motors, motor gear, pulley,etc