Garros Eco Solvent Ink For Advertising Printing
Features of Eco Solvent Ink:
1.This kind of ink suit for almost all the model of outdoor printhead in today's market,suitable printheads:DX4/5/6/7 head.
2.Eco solvent ink is no odor,environment friendly.
3.With high dynamic,good liquidity,low resistance,and high climate-resistance,eco solvent ink has about 18 months in outdoor.
4.With high resolution print-head, use for Dx4 and Dx5 ep son head.
5.Used in the outdoor printer MIMAKI JV3/JV4/JV33/JV5,Mutoh,Roland.
6.Used imported raw material,has no harm to human body, and environment friendly.
7.No printer head jam,and protects printer head.
8.The eco solvent ink in store.
Brand

Eco Solvent Ink

Suitable Printer

roland mimaki mutoh mimaki China eco solvent printer

Suitable printhead

DX4/DX5/DX6/DX7 head and

etc.

Color

C/M/Y/K/LC/LM

Material Type

Banner,Vinyl,One Way Vision,PP,Wallpaper,Poster and ect.

Package

1liter/bottle. 12bottles /carton.

Certifications

CE,MSDS,ISO9001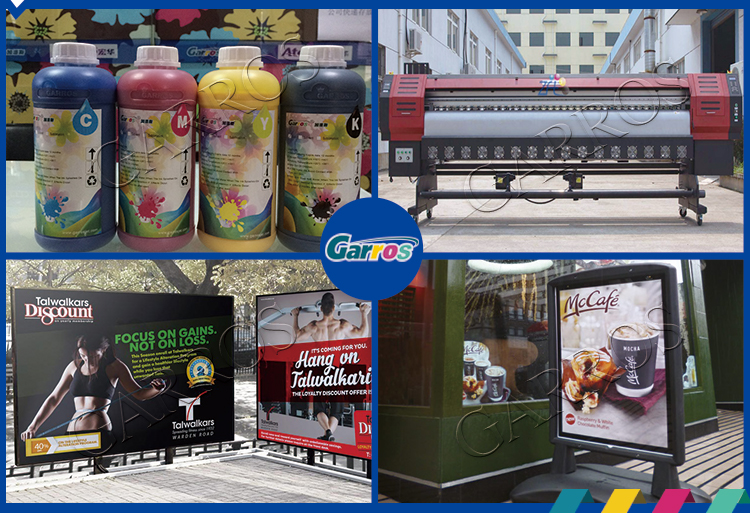 What we can supply u
A) Garros 1.8m/3.2m inkjet printer with Epson XP600/DX5/DX7 head,
eco solvent ink/sublimation ink,real 1440dpi high resolution
B) Large format solvent printer, with Konica 512i/30pl head
C) Garros UV roll to roll /flatbed printer, Epson DX5/7 head, UV ink.
D) Direct to garment printer and digital textile printer for roll fabric.
E) Eco solvent ink for Epson head, SK-4 Solvent ink for Seiko head, for Konica head, High quality, low price
F) All kinds of printing media, flex banner, vinyl sticker, PP paper, one way vision, mesh,transfer paper ,etc.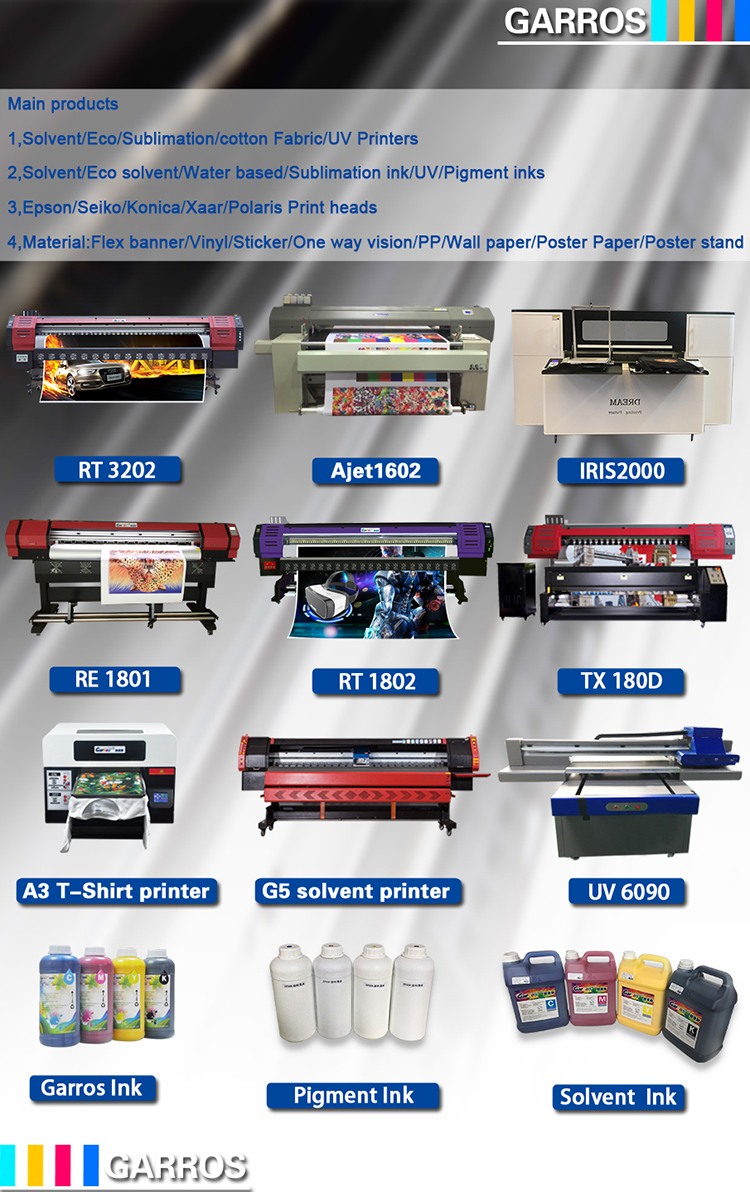 About our company:
1) Was established since 2006,with over 8 years experiences in manufacturing
and supplying digital printers and consumables.
2)Besides , sole agents are located in UK,Madagascar,Indonesia,Philippine,Malaysia etc.
3)With a strong team for sales, after-sales and Technology support !
4)Engineers available for installation and training abroad.
5)Exhibitions in every year held in Shanghai,Guangzhou, Dongguang,Indonesia,ect.
Package&Delivery terms: 1).1000ml/barrel 12barrels/carton
2).Within 3 working days after payment received
3).Can send via express method,ocean shipping method as well
Storage tips:
1) Avoid contacting with skin, eyes and clothing. Do not ingest or inhale, After use, wash hands with soap and water.
2) Store in cool and dry place, avoid freezing, and keep away from direct sunlight.
3) Don't mix with other kind of ink when use, when use the first time, please full clear the print head and ink pipeline in the printer.
How about the warranty of the printer and after-sale service?
(1) One year of warranty.
(2) About the after-sales service:
A. If the printer has problem, the client can take a picture or video to the technician.
B. The technician will teach the client to fix and operate the printer through the internet.
C.And we will ask the client to send back the board which is wrong to check it.
D.Believe us. The technician is full of experience, and the sales also keep in touch with the client.